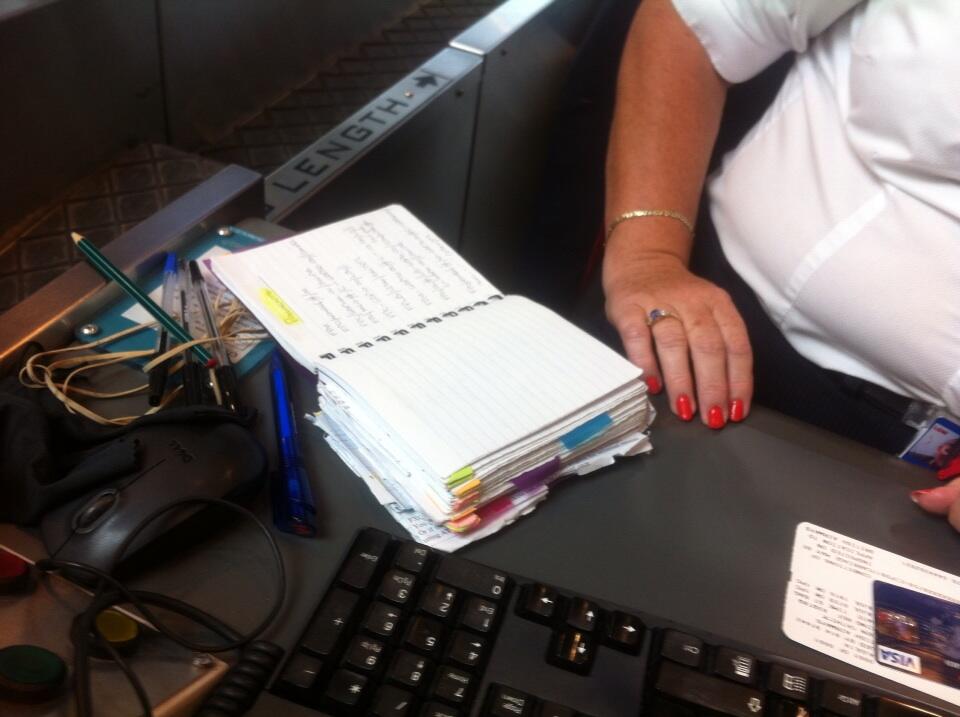 I am out here for you. You don't know what it's like to be ME out here for YOU. It is an up-at-dawn, pride-swallowing siege that I will never fully tell you about, ok? Help me… help you. Help me, help you. – Jerry Macguire
This is Joy's notebook.
At the airport earlier today I had to switch my ticket from one flight to another. Joy was the customer service person who helped me do this.
Joy's notebook is about two inches thick, she's created an A-Z index for it, it is packed full of handwritten notes about how to do different tasks in the various system she uses – steps that need following, codes that need inputting. It sits beside her every day, beautifully decorated (with stickers) evidence of the horrendous usability of the software she uses to get her job done.
Joy has been working for this airline for years. She told me that some of the stuff that is in her notebook she doesn't need anymore – either because they've upgraded to a new system or that, after years, she's finally managed to memorise it.
She told me that each time they upgrade the system it seems to get harder, not easier, to use. Joy told me that all the customer service reps have a notebook like this. You can't use the systems without one. Joy is digitally literate and confident with the computer, but it is impossible to use without the notebook.
Joy is frontline staff for a major international airline. She is delightful and doing her best to do great work and look after her customers, but this is what she's got to work with. I wonder if I'd be so cheerful if I was in her seat. No wonder so many others are not.
Internal systems are the tools we give our frontline staff, the people who are in charge of the customer experience for the face to face and telephone channels. If you pay attention to people using these systems (either out of general professional interest or because you're fortunate enough to work with the on a project), you'll find that notebooks like Joy's are not uncommon. They're everywhere.
They are everywhere because the people who bought or made the system didn't even think about the experience for internal staff. The internal staff who are stuck using it are so far away from the people who bought that expensive crap that they'll never know how awful it is (or their jobs are in peril so they don't dare complain).
Internal systems allow an organisation to deliver great customer experience throughout the customer journey. These systems let people like Joy be fast (or not), accurate (or not), joined up to the rest of the organisation (or not).
And yet, all the time, we say 'It does't matter, we'll sort that out with training', 'Call the tech writers, we'll make a manual for this system', Â 'Don't worry, we'll inflict this piece of crap on our employees, unlike our customers they're stuck with us'. Except they're not really, are they.
This might have worked with Joy but as our employees begin to join our workforces as digital natives, familiar with the well designed exteriors of organisations, how well do you think they'll take to the tools we offer them to book the tickets, create the content, manage the accounts.
I kind of fancy that they're going to start telling us to lift our game, to stick our crappy internal systems up our jumpers, and to give them so decent tools so that they can be as efficient as we want them to be. So that they can offer the kind of customer service everyone wants to experience.
I really hope they do. I hope that they will demand that we do allow time to work on the usability of the content management system, not just the website. That a company will be able to win on customer service because they actually bothered to hire design team that lets the customer service people offer faster, better service. That the news company that optimises the content management interface wins because their journalists can write more, better content rather than battle the content management system for hours a day (true story).
And I really hope that one day Joy will be able to stop battling the interfaces she uses to give such great customer service and leave her notebook at home.
If you're going to do this user experience thing properly, you've got to look at all the angles. If you respect for your employees and your customers you need to care about the user experience of internal systems. Challenge yourself to solve the often more difficult design problems of internal systems, and know that by doing that, you're creating a better user experience for all.