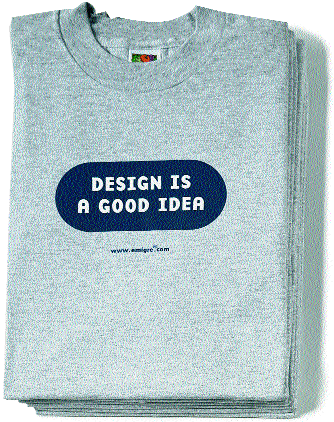 There's been a whole lot of talk lately about 'ugly design' and the perception that 'it works'. The often quoted examples are My Space, eBay, Craigs List, and Del.icio.us. As someone who spends too much time thinking about design and trying to apply user centred design principles to the projects I work on, I find this somewhat annoying.
First up, let's define what we mean by design. There are really two different aspects to 'design' that people are referring to – there's the design that I'm most interested in which is the information and interface design. Then there's the design that is most often talked about, that's the visual design. Both of these types of designs are important when it comes to thinking about this idea of 'ugly design' and why, sometimes, it appears to work.
Information/Interaction Design: no one likes bad information design. Bad information design means you can't find the information you're looking for because its badly placed, or doesn't exist at all, or the 'flags' (or scent) you need to help you find the information are hard to find or non existent. When you come to a site like this, you leave. And you don't come back, unless you absolutely have to. The internet is abundent with information and making information that people are looking for easy for them is an essential part of making your site somewhere they'll visit and return to, and recommend to their social network. Good information design (which includes information architecture) is entry level to having 'a site that works'.
Interaction design, when poorly executed, is also a source of frustration for users, and a good reason for them to seek out an alternative to your site. Interaction design is poorly executed when it doesn't allow users to perform the tasks that they wish to perform on your site with thel least amount of effort. Taking the time to identify these tasks and to ensure that they are implemented efficiently means that your site becomes 'easy to use', which is compelling reason to choose your site over other alternatives.
Interestingly, in talking about these critical design forms, I've managed to not really talk about what your site 'looks like' at all. There is a common misconception that 'design' refers to 'the look' of things… and in some ways, it does. Its taken me a while to embrace the idea that I am a designer, even though my sense of colour co-ordination is not the best, and my photoshop skills are fairly average. I'm not a visual designer (aka graphic designer).
Visual design, of course, is also a very important part of the user experience of a website. Good visual design can take strong information design and make it even more effective. Good visual design makes strong interaction design not only efficient, but also elegant. And, of course, visual design is critical to the brand messages that a website sends.
So, when people are talking about My Space, eBay, Craigs List, and Del.icio.us having 'ugly design', what kind of design are they referring to?
Well, in all of these cases, I think there are opportunities for the IA and ID to be strengthened, but, by and large, they enable people to easily locate the content/functionality they seek, and to perform the key tasks reasonably efficiently. It's in the visual design realm that they really stink.
There's a reasonably widely propogated idea that in order for a website to be 'trusted' it needs to be visually 'well designed', or to be seen to have good quality visual design. Well, obviously these enormously popular and well trusted sites fly in the face of that concept.
In my view, there's a good reason for that, though. And it doesn't mean that we can now take graphic design out of our production schedules because its unneccessary. Sometimes, a less 'polished' visual design is *part* of the brand. For sites like Craigs List and eBay, a big part of their appeal is the promise that they will deliver a good deal. They trade in discount, 'cheapness' is part of their brand. Having a lusciously and obviously expensively designed interface counteracts that claim, crearing cognative disconnect between the intent of the site and it's presentation. This is what creates distrust.
Design Eye for the List Guy
So, in light of all this discussion, how timely was it that the Design Eye Guys decided to apply their skill to Craigs List (as recently presented at SXSW).
People have bagged the design (or apparent lack thereof) on CraigList for as long as its been in existence. Yet, people still use it and (as the design guys said) love it. It works.
Part of the foundation of the Design Guys redesign (or, to use their term 'realignment' was a research finding that showed that people wanted a more professional look to the site. They found that although people found the site very easy to use and read, they didn't think it was 'trustworthy' or 'professional'.
Hrm… I know it's kind of naughty to say this but… how much can you trust a user?
I'm reminded of that supposed quote of Henry Ford when apparently he said that if he asked people what they wanted he would have designed faster horses, instead of a car.
There's been a bit of hurumphing amongst design bloggers the new design hasn't received the love that it deserves… for me, I was actually pretty underwhelmed by it. I see that the visual design and layout is 'cleaner' and has 'more white space'. Sure. But the overall effect for me is that the content is less scannable.
I know it kind of flies in the face of ID conventions, but I find the large section headings distracting me from the content I'm actually scanning for – the specific types of listings – I'm not looking for a 'jobs' section, I'm looking for Internet jobs. Because of the terms used, I can tell, when I see them clustered, whether they're jobs, real estate, classifieds, personals. I don't actually need that heading much at all. In my opinion, the smaller, less distinct section headings on the original site work better – take less space are less distracting. I'm not looking at the jobs heading. It does nothing for me. So, while we're at it – can we take that number away from the heading and break it down to each of the sections. Tell me how many Legal/Paralegal jobs there are. That's all I'm interested in. You can have 25 thousand jobs on your site, but if you have none in my industry, what do I care?
The guys also specifically mentioned that search needs to be improved… then they go put it in that weird (as in unconventional) space. I'm pretty conservative when it comes to where I like my search (especially on a site where search is so important). This just seemed like a really odd choice to me. They've really taken the focus *off* search, IMHO. Not what I would have done.
The original (and current) Craigslist (as seen at www.craigslist.org)

The 'realigned' design eyed craigslist (as seen at http://craigslist.thebignoob.com)
And, for my final whinge… I don't get why they took the interesting links and discussion forums and gave them such high priority in the RHS column of the layout. I actually find that really annoying and distracting – completely out of alignment with the task that I'm performing when I'm scanning over the clusters of content on the homepage. And not in alignment with their stated objectives for the 'realignment' of the site. (eh. Alignment appears to be my word of the day).
For me, the design eye guys didn't quite get it right this year. I get the feeling that they didn't quite get into the mind of the CraigsList user, maybe they asked their research questions a little wrong, and maybe the information design was a little off. If it were up to me, I'd probably stick with the original rather than changing over to this one… but then, the design eye guys did say there was still work to be done. It would be interesting to see some later iterations of their presented design.
But, that's well and truly enough from me.
What do you think? Do you love the Design Eye's version? Do you love original flavour CraigList? Let's hear it…
Technorati Tags: design+eye, ugly+design, interaction+design, SXSW, CraigsList
UPDATE: Love the Ok/Cancel comic on this topic:
http://www.ok-cancel.com/comic/132.html